Fisheries managers send draft coastal habitat protection plan for public consultation | New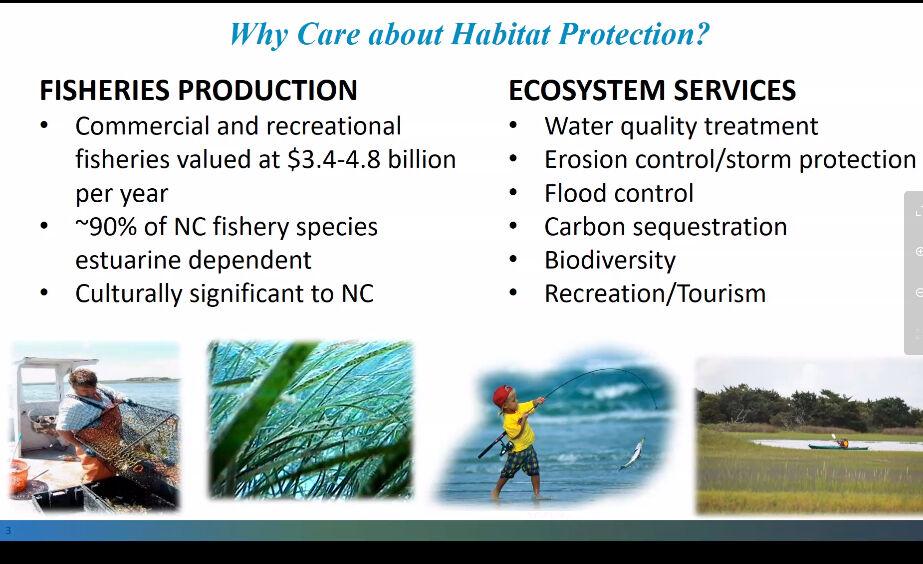 CITY OF PLUS-HEAD – State marine fisheries managers are supporting the protection of coastal habitat and seeking greater public input on a proposed course of action.
The North Carolina Marine Fisheries Commission met online via Zoom on August 25-26 for its regular business meeting. During the meeting, the Panel received a report on the latest draft of the Coastal Habitat Protection Plan from the North Carolina Department of Environmental Quality. It has a long list of changes that the ministry's CHPP steering committee recommends to improve fish stocks, improve coastal habitat, and increase coastal resilience.
This new draft has been sent to MFC, NC Coastal Resources Commission, and NC Environmental Management Commission for review and potential action. At the August 26 meeting, MFC unanimously approved sending the draft plan for public comment. A DMF official said the public comment period would open at a later date.
Anne Deaton, chief of the habitat section of the North Carolina Marine Fisheries Division, told the CHPP report that the changes to the protection of underwater vegetation placed a strong emphasis on the quality of the underwater vegetation. the water.
"We have enough information to know that we need to act now (to protect underwater vegetation)," she said. "The degradation of water quality is a major threat to the after-sales service. We are also concerned about climate change.
Ms Deaton said rising temperatures and increased precipitation resulting from climate change could lead to changes in water temperature and salinity, which could affect the SAV. She said the CHPP project recommends focusing on water quality standards for SAV, which will benefit many other things, including the recovery of wild oysters and the rebuilding of fish stocks.
MFC seemed very interested in the CHPP and its goals. The Commission's recreational fishing industry representative, Tom Roller, said protecting coastal habitat is "integral to all the stocks we manage".
"Habitat faces many challenges in North Carolina," said Martin Posey, general representative for MFC. "This is an area where a lot needs to be done. "
In other news at the August 26 meeting, Mike Loeffler, DMF's southern flounder manager, said Amendment 3 to the southern plaice fishery management plan should be submitted to MFC when of its November meeting.
According to documents from the August 26 meeting, Amendment 3 "will consider more robust management strategies, such as quotas, slot limits, size limit changes, gear changes and specific management species for recreational fishing ". The DMF reports that although the commercial and recreational southern plaice seasons implemented in 2020 reduced landings, they did not fully achieve the reductions required by the FMP.
During discussion on Amendment 3, MFC Vice-President and Commercial Industry Representative Doug Cross said he wanted to know how virtual recreational fishing tournaments were affecting the southern plaice stock. . Mr Roller seemed to agree, although he also wanted more information on unreported commercial landings.
DMF director Kathy Rawls said she recently heard about the problem of unreported commercial landings of southern plaice.
"Currently we cannot say what the impact is," Ms. Rawls said. "Even though it's a small part, we would like to know what that part is."
MFC Commercial Fisheries Representative Mike Blandon said he also noticed the issue raised at several MFC meetings. He also said he had noticed a "dramatic drop" in commercial fishing effort and a lack of reporting on recreational fishing landings.
"I have no problem finding mechanisms to address these concerns," Mr. Blandon said, "but I'm not convinced that there are this significant number of fish out of the water (commercially) no reported ".
Contact Mike Shutak at 252-723-7353, email [email protected]; or follow us on Twitter at @mikesccnt.